The Skin Rx: 5 Tips To Great Skin
As we make the transition into fall, sometimes our skin can take on a life of its own with crazy blemishes, dryness or sensitivity. Don't panic. With the right products, proper skincare routine combined with good habits, you'll be able to extinguish those skincare woes in no time!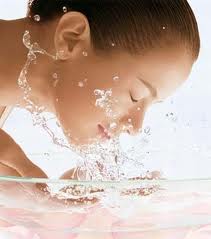 Don't believe me? I urge you to try the following tips for three weeks and let me know if you see a difference.
1.     Bottoms Up! That is water of course. Body cells need plenty of water to function properly and eliminate toxins that zap the life out of our skin; depriving them of this vital substance means you get lazy cells, and the result? Dull, tired looking skin. If you think chugging eight glasses of water is boring, there are many other ways to sneak H2O into your diet such as drinking broths, real fruit/vegetable juices, or eating fruits such as watermelon that contain high water content. The point is to keep your body hydrated and working at its peak so your skin can shine.
2.     Slough Off. Exfoliation will effectively remove dead skin cell buildup and speed up cell renewal. It also improves blood circulation in your face and draws impurities from deep within your pores. Look for gentle products with small exfoliating beads that are not too jagged or if you'd like to use ingredients from your pantry, try mixing a spoon of sugar to some moisturizing lotion, rub the mixture into your skin in circular motion and then rinse. Although diligent exfoliation is commendable, you can have too much of a good thing; because your skin can become sensitive and raw when you go overboard, exfoliating once a week is often enough.
3.     Slather On. The fall breeze can be harsh on even the toughest skin, so make sure your face is protected from the elements with a good moisturizing cream. An A+ face cream should hydrate your skin without being overly greasy; it should lock moisture in and restore elasticity to the outer layer of your skin, and it should give you an instant radiance. I'll share a secret with you: I like to use something called Crème Hydramucine Optimal CreamfromGM Collins Cream. This cream superstar is so amazing that we just had to include it in our facial treatments at the salon. Come and experience it for yourself! It will quench and soothe dry, irritated skin and help you relax with its fresh, natural scent.
So go out there and shop for a good-quality face cream. Feeling overwhelmed by the endless choices available? According to Cosmos magazine, the top 5 face creams on the market are:
– Elizabeth Arden Eight hour cream skin protectant. 8 Hours? This cream works longer than some of us do!
– WEIL for origins – Plantidote Mega Mushroom Face Cream. Mushrooms might not look glamorous, but they're high in antioxidants that keep us looking youthful. Way to go, little mushrooms!
– Dear John by Benefit. Silky and seductive, a true child of Benefit.
– Crème de la Mer.No, it should be called crème de la crème; after all, it is only like the most sought-after cream by Hollywood mega stars. I hear Jennifer Lopez uses this stuff from head to toe!
– Dermalogica – Super Rich Repair (Age Smart). It contains no artificial fragrance or colour, making it the top choice for those who have chronically dry, sensitive, and aging skin.
4.     Cleanse + Tone. Never go to bed with makeup on, never! Always make sure your skin is squeaky clean before you dive into your pillow because all that gunk will clog your pores and cause Titanic-sized breakouts. One product that I just can't live without is the One-Step Cleanser by Vichy. This convenient, light-weight 3-in-1 cleanser includes cleansing milk, toning lotion, and eye make-up remover, simplifying your daily routine so you can have more time for your beauty sleep.
5.      Be Kissable. Please don't let your lips weather the storm alone and get so dry and chapped that they start to bleed, that's never sexy. Find a lip balm that works for you; whether it contains shea butter or jojoba oil; whether it's got a mint flavour or cherry, grab a lip balm, even several just in case you lose them like I do, and use it regularly to keep the flakes at bay. My favourite is Kiehl's Lip Balm #1which I apply in the morning and before going to bed and it lasts all day. So follow my lead and show your puckers some love.
I hope you found this article helpful in protecting your skin for the fall. Have I forgotten anything in the list? What are some of your skin secrets? Comment and enhance the discussion.
We at Tanubhi Beauty Care provide best beauty and hair care services at nominal rates because our goal is to provide great satisfaction for our clients.  Visit our home page by clicking here
You can check other Services offered by us to our clients. You can now book your appointment online with us
Need more beauty tips, check out our other articles:
5 Reasons to perfect your feet
How to magnify your best assets
Anti aging tips secrets to look younger